FROM THE BOOK JACKET:
Coldwaters most-wanted cowboy is just her best friend—until one sizzling summer kiss changes everything&
Rodeo rider Nico Laramie may not have a squeaky-clean reputation with the women of Coldwater, but there are rules he doesnt break. No bullies. No married women. And definitely not his best friend, Eden Joplin. So what exactly is Nico thinking, kissing Eden in front of her jerk ex-husband? With the proverbial bull out of the pen, Nico is about to get gored—hard.
Eden has secretly been writing a sex-advice blog called Naughty Cowgirl, but her divorce killed all her sexy inspiration. Then, when her gorgeous best friend kisses her in a way that makes her toes curl, suddenly Edens mojo is back. And the heat isnt going away. Now something deep and long-denied is happening between them. Something that could destroy their friendship&or finally prove that this time its the real deal.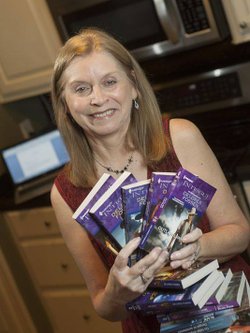 AUTHOR INFO:
USA Today
bestselling author, Delores Fossen, has sold over 70 novels with millions of copies of her books in print worldwide. She's received the Booksellers' Best Award, the Romantic Times Reviewers' Choice Award and was a finalist for the prestigious Rita ®. In addition, she's had nearly a hundred short stories and articles published in national magazines.